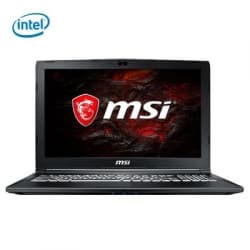 Main Features:
● Microsoft Windows 10 OS
Offers more powerful performance, brings you more smooth and wonderful user experience
● Intel Core i7-7700HQ Quad Core 2.8GHz, up to 3.7GHz
Ultra-low-voltage platform and quad-core processing provide maximum high-efficiency power
● NVIDIA GeForce GTX1050 Ti GDDR5 Graphics
Better and faster in playing games and watching videos
● 8GB DDR4 RAM for Advanced Multitasking, up to 32GB
Substantial high-bandwidth RAM to smoothly run your games, photos and video-editing applications, as well as multiple programs and browser tabs all at once
● 1TB HDD Storage Capacity
Provides room to store pictures, videos, music and more
● Front Camera for Photos and Face-to-face Chat
720P front camera allows you to capture memorable moments or chat with friends
לבחור בISRAEL EXPRESS במשלוח. עם מע"מ צפוי לעלות כ1053$ = 3813ש"ח.

לפטופ גיימינג חזק של MSI עם משלוח חינם! רק 899.99$!